This article first appeared at GrowthRocks.
Email marketing is probably the most fierce arrow in any marketer's quiver, which is not something new.
It is also alive and thriving, despite the predictions, which is not exactly new, either.
According to the graph below, the number of emails exchanged in 2018 surpassed 281 billion:
And it will continue to grow rapidly, surely dominating most aspects of our lives, much like postal addresses once did.
So, seeing the phrase "Just send me an email" is now being more relevant than ever, how can eCommerce email marketing affect sales?
And how can email marketing and a good email marketing and automation platform, like Moosend and ConstantContact -which both are great MailChimp alternatives, by the way- be used throughout the customers' lifetime cycle? How can they generate more revenue and keep customers happier for longer?
The customer's journey stops
This is why you'll need to map it. A customer journey map is a visual representation of the customer's experience with a brand: from awareness to first purchase, retention, referral, etc.
This narrative is, of course, told from the customer's point of view and can give marketers valuable insight. This insight can go as far as the customer's behaviour and the value of the product itself.
And each of these stops is of significance and eCommerce email marketing can make the transition from one point of the funnel to the other smooth and seamless. Therefore, it's not only valuable, but also necessary, for someone to convert, while becoming familiar with and, in the end, attached to the brand.
But what are these stops, really?
1. Raise awareness
The first stop is definitely to try and raise awareness with a product update or a new feature email. It's the time during which your target audience becomes familiar with what you've got to offer. 
And, if you use your data correctly, you can make one more step after specifying your target audience: create your buyer persona. A buyer persona will help you determine your KPI's and let you know what is it that your potential customer wants.
At this point, you've got an opportunity to make an excellent first impression. All you need to do is study your data first and determine your buyer personas. 
When you manage to get that down and make sure that you've got all the information you need, create an email that will contain these core elements:
A clear, concise tone of voice that is appropriate for both the original tone of the brand and the target audience

The value that will be obvious from start to finish, without being too sales-focused. Remember, your customers want to get to know you first. Their transition from prospect to the customer should be smooth.

Feel like a group of friends welcoming a new member. Customers don't care about buying any more. They care about being treated nicely, first and foremost. They'll be expecting a welcome email, so why not give them the experience they're in for?
According to a survey conducted by Accenture, "Two-thirds of customers are willing to share personal information with companies–but only in exchange for some perceived value."
So, it's essential for you to to achieve that high level of value, right off the bat.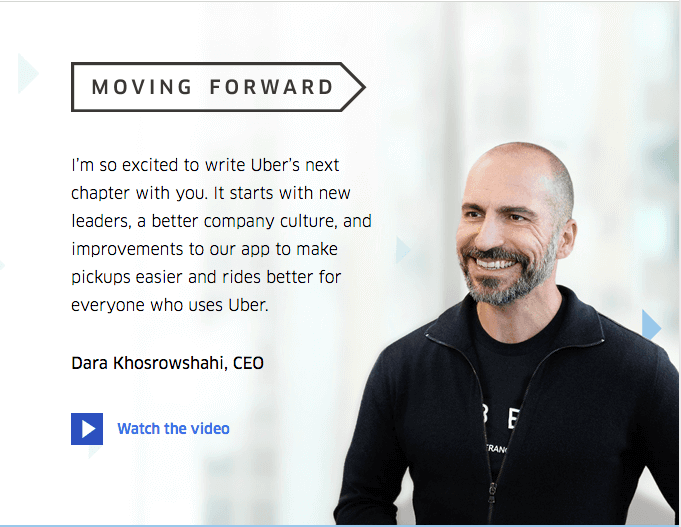 This email from Uber, for example, aims to showcase a new feature that is based solely around the customer's feedback and opinion. 
Which, in turn, is proof of the customer being the more than a customer: They become the main reason the company evolves.
2. Get 'em buying
This is the stage that comes after a successful awareness campaign. And I'm stressing out the word "successful" because a prospect won't become a buyer if they're not yet convinced.
But let's assume that the subscriber has all the information they'll need when it comes to your product. How are you going to get them to buy?
You've got more than enough tools at your disposal for that: vouchers, coupons, discount codes, flash sales, personalised offers, the list goes on and on.
The point is for your prospect to feel that they're going through with a bargain and not just a deal-and for their first purchase, no less!-but that comes with a twist: 
They will need to feel that the product can cover the demands they have at that stage. 
Better yet, they will need to feel like the product is there to fill a gap in the market and answer all their questions!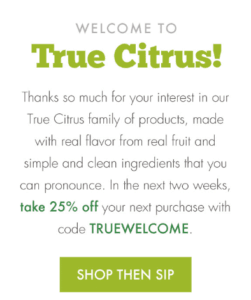 The above email is one that can prove my point: Colours that reflect what the brand is about. Then a CTA that one can't go wrong with, as it's such a clever wordplay between "Sip", "Ship" and the whole concept of crystallised citrus products and their uses.
What is more, there is some clear value, both in terms of pricing-25% off is a great deal!-and in terms of product, as there are not too many companies that actually ship crystallised citrus products that don't have any artificial ingredients or sweeteners added.
3. Retention and Replenishment
So, your customers made their first purchase, discount code or not. Is this where your job is done?
Of course not! You cannot build a successful business without customer retention (without repeaters, that is).
So, send them an email that will be asking how they liked your product, your services (or both) and give you a rating.
Better yet, send them a survey and ask for feedback that would be a little more extensive. That way, they're bound to interact with your brand. And if they interact successfully, they'll stay, and they'll buy again.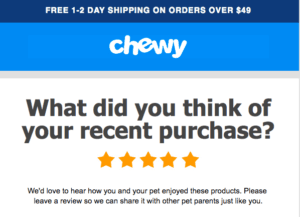 In this email, the customer gets the benefit of free shipping. What is more, they also get to rate the services. 
The message is clear and comes with this added value: Customer feedback gets to be passed around to like-minded customers and pinpoint the hows and whys when it comes to the product.
But retention goes a lot further than that, especially if the product is one that can run out.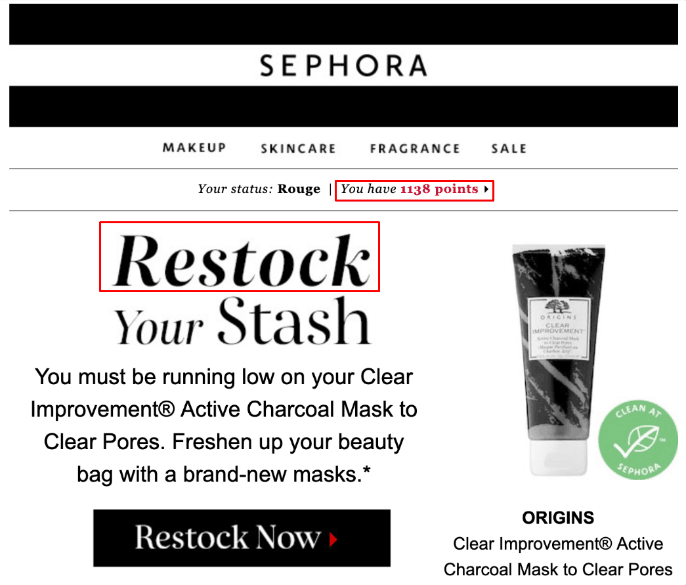 This email is a typical replenishment email that calls the customer to restock. And it works like a charm when it comes to eCommerce email marketing.
At this point in the customer journey, this is a clear call for a one-timer to become a repeater, complete with carefully expressed brand voice and a CTA that means business.
In this email, it is evident that the brand is trying to let the customer know the two following things:
It is time to feel refreshed (This answers the "Why" question, why would a person buy again?)

It is time to use your points to get a discount!
The best part of that stage is the following: These emails can't help but be personalised, which is the way to go:
As you can see, users like to receive personalised emails, and just their name on the subject line doesn't quite cut it anymore.
Therefore, triggered, personalised emails can give a gentle nudge to those that simply "Fly-
By" and lead them further down the sales funnel: make them more than repeaters. Make them loyal customers.
Loyal customers, of course, require something in return.
 And the ideal "in return" is a loyalty program, as the name suggests. Discounts for repeaters should be a staple to all businesses, so long as their customer value can allow that.
4. Referral programs
When a customer likes you, they'll definitely try and bring their own "tribe" to your brand's community. And this can only work to your benefit.
No brand should be above using influencers, and referral marketing works the same way: 
By asking your customers to refer a friend, you're not only showing them that their opinion matters a great deal to you, but you're also showing them that you consider them to be your brand ambassadors.
And brand ambassadors, much like influencers, reap benefits. Like this:
A referral program is a win-win situation, as the customer gets to reap benefits like discounts, gift vouchers, free shipping, etc. Likewise, the company gets more customers that are willing to convert.
For example, Moosend has that exact button you're looking for when setting up campaigns: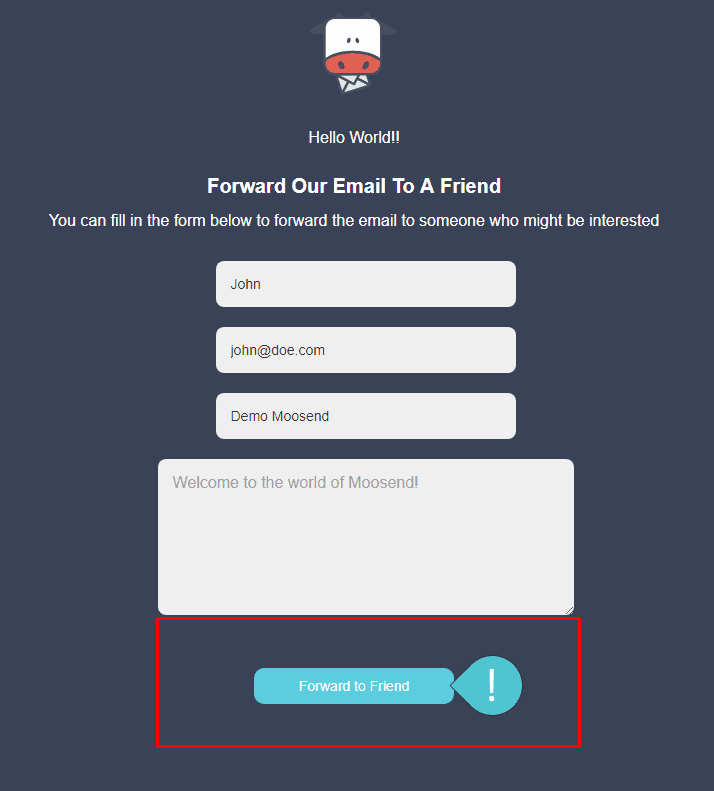 You see, referral marketing is in the list of the most tried and accurate sales tools, as people that are ready to refer someone to your brand are, mainly, giving your brand a vote of confidence, they're showing you how much they enjoy your product, and they want the world to know.
Pro tip: Don't forget to check this great guide on how to go through with eCommerce shipping!
eCommerce Email Marketing: Conclusion
You can never go wrong with email marketing, and eCommerce email marketing is no exception. 
It can help boost conversions, build brand awareness, loyalty and a customer base that can explode in less time than you'd think.
Just make sure to study your data, segmentation, and show value to your customers. Also don't forget to offer loyalty programs, discounts, and excellent customer service. Follow these and your customers will be coming back to you time and time again!
(Visited 21 times, 1 visits today)